The Genesis of 1800:
This family vineyard was born several centuries ago ... 200 years of history, built by the same family whose cradle was this pretty bourgeois house. One of our ancestors, a grunt of the Napoleonic army, received a dowry by marrying the same day as the Corsican emperor. The story goes that this is how he got his first ares of vines.
The personalities of the wine castle
Jean 1850-1930: Gabriel's father was at the origin of the transformation of the vineyard into white grape varieties.
Gabriel 1875-1952: Our great grandfather gave a considerable boost to the exploitation. A great follower of the stock market in Bordeaux, he bought and sold goods (coffee, cereals ...). He was able to increase the number of hectares of vines.
Joseph 1908-1994: Highly colored character, very erudite, fluent in Latin, he continued as his father to prosper the vineyard. He transmitted this love of the vineyard to his three sons, Philippe, Claude and Michel.
Claude 1935-2017: Each of the three brothers will then create his own vineyard, including Claude our father. Having graduated in oenology in 1959. He was one of the oldest oenologists in the world. In the 1960s, he managed Tunisian vineyards on behalf of the French government. This technician passionate about winemaking is one of the precursors of temperature control techniques and skin maceration. At the end of the 1970s, the first thermo regulated tanks were set up in Naujan. The reputation of our white wines is his work.
Stéphane 1969 & Alain 1963 :
Two personalities for a true complementarity. Since 1996 Claude's two sons, Stéphane and Alain have taken over the reins and manage the 60 hectares of the farm.
One is exuberant and inflamed, the other is discreet and thoughtful ... Alain and Stéphane share however the same passion, inherited from their father, that of the vine, putting in the service of their Castle their own qualities.

Stéphane, profoundly winemaker at heart has always been a man on the ground. After studying wine, he went abroad to improve his knowledge by vinification in South Africa, in Zimbabwe, before returning to the Château to work with his father oenologist. He has since done various services in Asia, notably in China, where he set up a winemaking unit in collaboration with Derenoncourt. Since 1996, it has deeply reworked and replanted the vineyard which is today in perfect adequacy with our excellent soils. At the vinification level, he has evolved our red wines, making them more flexible, more balanced and adapted to the wishes of the current clientele.

Alain is studying business at the Bernom Institute in Bordeaux. After 24 months as a Judo Instructor at the Mediterranean Club, he spent two years in the Air Force as an Air Defense Officer in Africa. His first job as a salesman, cork seller on behalf of Optima. Then he will sell micro computers for eight years before joining the family farm in 1997.

Together, they will diversify the ranges, improve the qualities and adapt the packaging to the ever-changing needs of the market.
Located in the region of Entre-Deux-Mers, on magnificent clay-limestone and boulbènes, our vineyard is made up of about fifty hectares.
Since 1996, date of our arrival, Stéphane has not stopped renewing the vineyard.
It has increased the planting density and balanced the proportions of the different grape varieties.
Grapes Red: Merlot: 27.06 Hectares - Cabernets Sauvignon: 7.73 Hectares Cabernet Franc: 3.00 Hectares.
White grapes: Sémillon: 5.44 Hectares -
Sauvignon Blanc: 2.76 Hectares - Sauvignon Gris: 2.36 Hectares
Muscadelle: 2.99 Hectares
The grape harvests have been mechanized since 1971, my ever-pioneering father was one of the first to invest in a harvesting machine. Vectur was then market leader. New generations of machines do a remarkable job, and the integrity of the bays is fully preserved
The cellar and winemaking
Almost entirely thermo-regulated, with a total capacity of 8,000 Hl, composed of stainless steel tanks and underground cement tanks, it is a very functional tool, which allows us to vinify and adapt to the hazards of each harvest.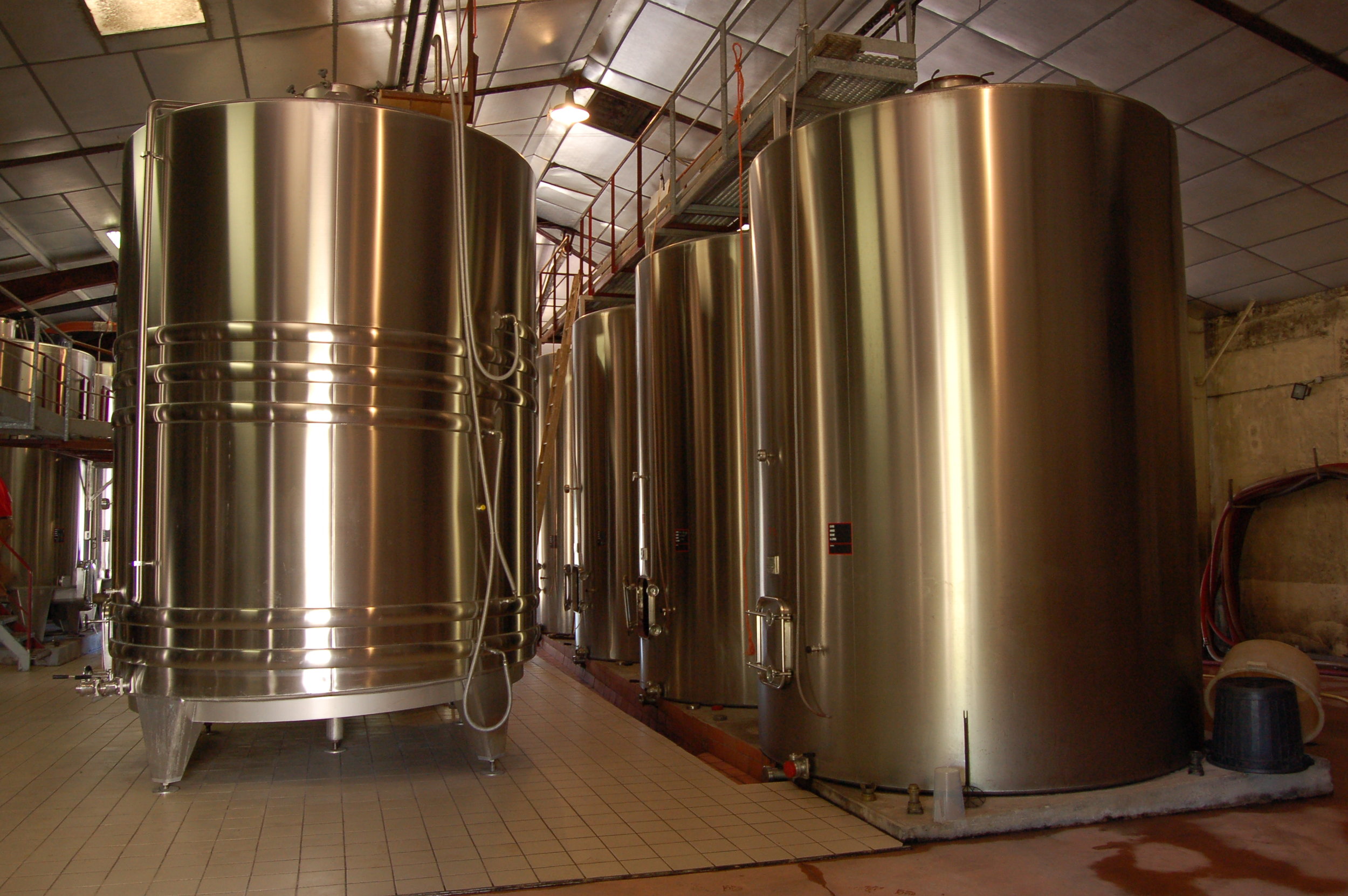 Château Fondarzac White: Coming from the blend of 4 Bordeaux vines, it is a fruity and lively dry. After a qualitative pressing, a fermentation at low temperature, then high and stabilized in vat, this white burgundy is bottled very early to keep its freshness and youth.
Château Darzac White: It comes from warmer soils giving complex wines with exotic citrus aromas. The expression of the character of the grape varieties and the terroir is at the center of the vinification process of this Entre-Deux-Mers. (Skin maceration, slow winemaking and aging on lees)
Mister Pink: Mister Pink's Cabernets Francs are harvested organoleptically and then fermented at low temperatures to obtain rose petals, very fruity.
Château Fondarzac Red: It is composed largely of Merlot, vinified traditionally in order to obtain charming wines. With a controlled extraction during fermentations and a 6-month aging in vats, it characterizes the classic red Bordeaux.
Château Darzac Red: Born on our best soils, the Château Darzac is the result of a deeper process of vinification (bleeding, shedding, long-lasting maceration, FML on pomace, undergrowth ...). This makes him a wine of care, complex and elegant.
Inheritance: a selection of our best merlots, a part spent in barrels, gives birth to a powerful and expressive red wine.
Origin: These magnificent Merlots from the original plot of the farm benefit from special treatment. A specific hydraulic press and then a 24-month barrel pass.
Bottling & Services

Equipped with our own bottling and packaging chain, we have an increased response capacity, and relatively short delivery times. We also have our own equipment to package the Bag in Box. We offer our clients the following services:
Bottles: Girl 375 ML, Bordelaise 750 Ml, Magnum 1500ML, then Double Magnum up to 15 Liters.

Bag in Box from 3 to 20 liters.

Packaging: Cardboard of 6 standing or lying according to your markets. Wooden crates and gift boxes on request.

Against labels on request: Barcode, QR Code, specific mentions, customizations.

On request and by external provider screw cap.